As Seen On TV products matching "zapplight", as seen on tv zapplight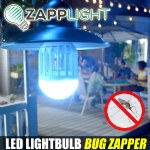 $9.94
...If peksy mosquitoes and other flying bugs keep you from enjoying the outdoors you need ZappLight. As seen on TV ZappLight is the all new, powerful bug zapper that utilizes a super-bright LED light to attract flying insects into its electrical grid an...
Watch the ZappLight commercial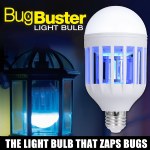 $11.94
...The Bug Buster Light Bulb guards you and your family from pesky mosquitos and bugs with its bright LED light that attracts bugs and zaps them on contact. Whether inside or outdoors the Bug Buster Light Bulb will get rid of annoying bugs. The Bug Bus...
Page: 1 of 1