As Seen On TV products matching "eggies", as seen on tv eggies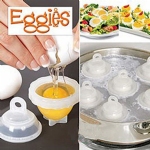 $7.95
...The Eggies Deluxe Plastic Egg Cooker Set makes it possible to finally enjoy hard-boiled eggs without peeling a single shell. Just crack, cook, and twist! Eggies are fast and easy to use, making them perfect for working people, stay-at-home moms, baby...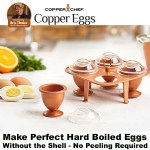 $14.94
...Cook perfect large-size eggs without the shell - no peeling required. Simply crack your egg into Copper Eggs, cook, and watch the eggs slip right out without their shell. Copper Eggs are coated with innovative Cerami-Tech Coating, which means not...
Watch the Copper Eggs XL commercial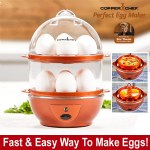 $19.94
...The Copper Chef Perfect Egg Maker is fast and easy way to make healthy, delicious eggs. The secret is Egg-Right Technology that circulates the heat and steam evenly for perfectly cooked easy to peel eggs every time. When eggs are done the egg maker a...
Page: 1 of 1